Divine Animal Hospital Newsletter
The veterinarians and staff at the Divine Animal Hospital are pleased to provide you with an online newsletter. This fun and fact-filled newsletter is updated on a regular basis.
Included in the newsletter are articles pertaining to pet care, information on Divine Animal Hospital, as well as news on the latest trends and discoveries in veterinary medicine.
Please enjoy the newsletter!
Current Newsletter Topics
May is National Chip Your Pet Month: Is Your Pet Protected?
Each year, millions of dogs and cats are lost. In fact, this disaster strikes nearly one-third of all pet-owning families. Of the millions of cats and dogs that are lost, only 10 percent are ever identified and returned to their owners. More pets lives are lost because owners did not identify them than from all infectious diseases combined.
All pets should wear traditional collars with identification and rabies vaccination tags. A traditional collar, however, is not enough. These collars are often worn loosely and are easily removed. Cat collars are designed to break off if the animal is caught in a tree branch. When the traditional collar is lost, removed or breaks off, nothing is left to identify the pet unless the pet has a microchip.
Microchips are rapidly becoming a very popular method for identifying pets. Once the microchip is inserted, the pet is identified for life. Microchips are safe, unalterable and permanent identification for pets. The microchip is a tiny computer chip or transponder about the size of a grain of rice. The chip is inserted under the skin between the shoulder blades of a cat or dog, in much the same way that a vaccine is administered. The microchip is coded with a unique 10-digit code. Each microchip that is inserted contains a unique code, specific to the individual pet.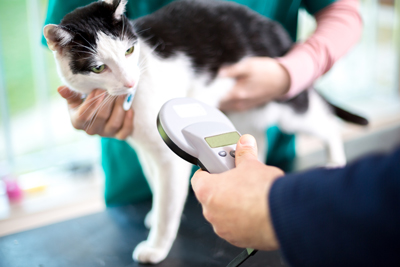 Inserting the microchip is simple and causes minimal or no discomfort. The microchip comes pre-loaded in a syringe, ready for insertion. The entire procedure takes less than 10 seconds. Post-injection reactions are very rare and the encapsulated microchip remains in place permanently.
The scanner is a hand-held device used to detect the message encoded in the microchip. The scanner is passed over the animal, paying particular attention to the area between the shoulder blades. If a microchip is present, the 10-digit number (encoded in the capsule) is read by the scanner. Scanners are provided to animal control, humane shelters and other rescue organizations so that all stray pets are scanned and those with microchips are reunited with their owners. Veterinarians can also purchase scanners for use in their hospital.
The veterinary hospital where the microchip is implanted records the pet's information and its unique microchip identification number. When a lost pet is found and scanned, the veterinary hospital is immediately contacted. Since most veterinary hospitals are not open 24 hours a day, it may take some time before you are notified. In addition to this standard registration, you can register your pet in your own name for a charge of $15-20. By doing this, as soon as your pet is found, you are notified.
Along with the additional registration fee, we recommend that you update your personal information with the microchip database on a regular basis. It is also advisable to have your veterinarian test the microchip on an annual basis in order to make sure that it is properly transmitting data.
May is Intestinal Parasite Awareness Month
Did you know that 34 percent of pets are infected with intestinal parasites?
The close relationship between people and their pets increasingly means parasite infections can be shared among dogs, cats and their owners. The Center for Disease Control (CDC) estimates that 1 to 3 million people are infected with an intestinal parasite in the United States. Children are at particular risk.
The Companion Animal Parasite Council (CAPC) recommends that fecal examinations for intestinal parasites be conducted at least once a year. In addition, if children are present in the household, the CAPC recommends that you de-worm your pet quarterly.

To help raise awareness we will perform free fecal examinations (a $16.50 value) during the month of May, limited to one pet per household.
Safe Garden for your Pets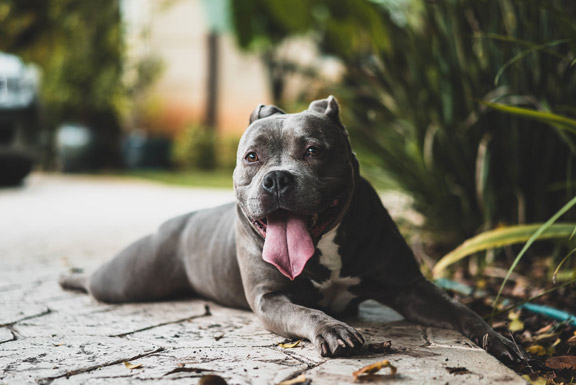 With the summer months ahead, many of us have gardening on the mind. But your green thumb doesn't have to come at Fido's expense. Here are some tips to ensure that your garden is kept pet-friendly this summer:
Avoid sweet-smelling mulch: parasites tend to thrive in mulch, and sweet-smelling cocoa mulch contains toxic ingredients if ingested by dogs and cats.
Use nontoxic plants and fertilizers: Look over the ASPCA's list of toxic and nontoxic plants in order to determine whether your plants are hazardous to Fido's health (such as the popular azaleas, Easter lilies and rhododendron). This also applies to fertilizers and any pesticides you may use.
Watch out for freshly watered lawn: Try not to let your pet walk on your lawn or garden areas after watering it. Chemicals you have applied can stick to your pet's paws, which they may proceed to lick and ingest.
Arm against fleas, ticks and heartworm:  Summer brings in the bugs, so make sure to take preventive measures against fleas, ticks and heartworm. Visit your local veterinarians for suggestions and treatments.
Watch for Allergies: With all the summer pollen in the air, watch for signs that your pets may be struggling right along with you. After taking your daily walks, wipe your animal's paws down with a towel in order to keep any unwanted pollen out of the house.
With summer fun comes summer struggles. But with these few easy tips in mind, it may make it a whole lot easier – and healthier – for both you and your pet.
Basic Puppy Training
A well-behaved dog is the product of teaching him to understand what is expected; you are responsible to teach him what behavior is or is not tolerated. As the owner of a new puppy, training is necessary and mutually beneficial. Young puppies are a veritable behavioral blank slate. If you are able to take advantage of this special time and begin temperament and basic obedience training using gentle, positive reinforcement methods, you are much more likely to end up with a well-behaved, sociable companion for life.
Benefits of early puppy training include:
• Instilling good manners
• Utilizing your puppy's critical socialization period to familiarize him with all kinds of people, animals and environments
• Getting him used to being handled and touched
• Stimulating his abilities
• Troubleshooting common puppy problems like play-biting, chewing, digging and housebreaking before they become inconvenient dog problems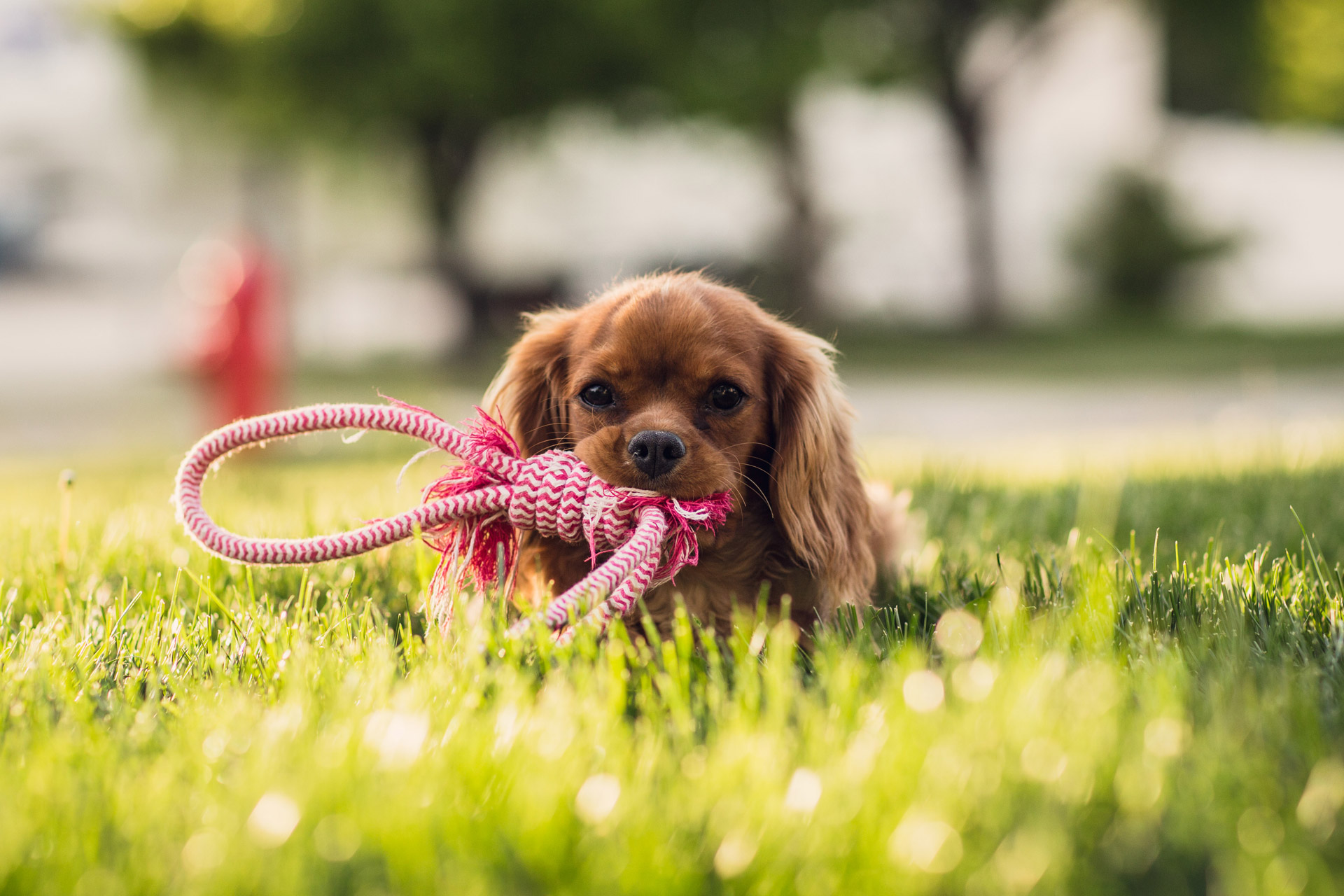 Obedience Training
The classes to look for should include information and instruction on how to communicate with your puppy. Housetraining, chewing, bite inhibition, off-leash socialization, handling, house manners and often an introduction to basic obedience skills should be part of your puppy's program. Imagine a pre-school for puppies.
Once your puppy has become a socialized member of the canine community and is old enough to begin learning commands, classes are usually available at a variety of levels. These classes start from the beginning, covering basic commands such as sit, stay, down, come, etc. They help you continue the "conversation" you had begun with your puppy at your first puppy class. By having everyone in your family participate, your puppy learns to accept his place in the family.
• Keep sessions short (around 5-10 minutes) as dogs generally have short attention spans.
• Determine what kind of positive reinforcement training you are going to use and stick with it. If your puppy is not responsive to food, try a favorite toy or enthusiastic verbal praise.
• Consult with a training school or personal trainer (yup, dogs have them too!) to help establish a routine.
• Initiate consistent house rules with other family members. If Mom says "lay down" but Dad says "down," it could cause confusion, thwarting progress.
Ultimately, how much and how well your puppy learns is up to you. Constant attention and positive reinforcement are the keys to success. Helping your puppy become a fun-loving and obedient companion also makes your relationship that much more enjoyable in the long run.
9 Ways to be Kind to Animals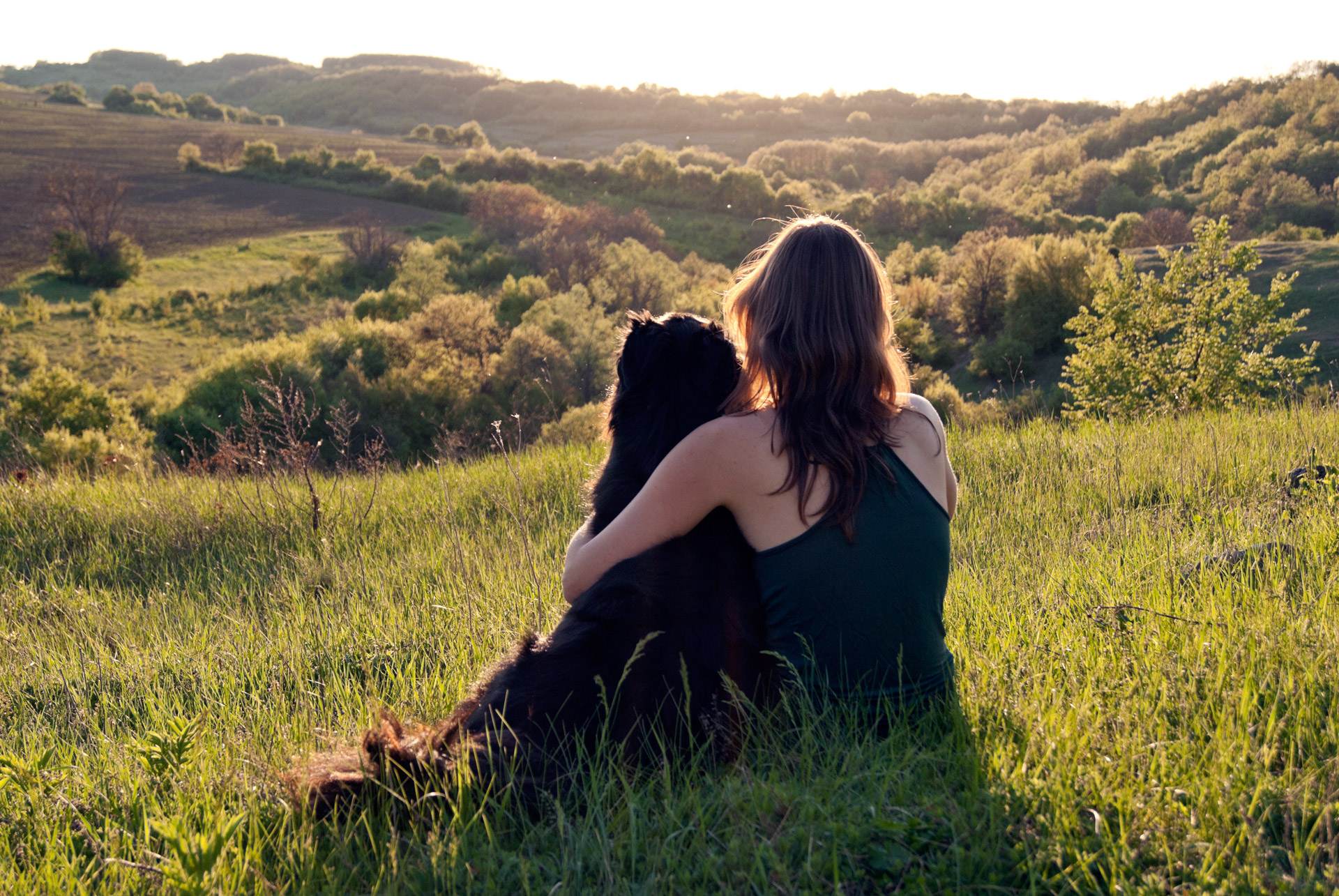 They make us laugh. They're our best friends. They're a source of comfort. If you love your pets, it's easy to share and show your kindness to animals as well. Here are some ideas on how you can spread the love and be kind to animals:
1. Speak out for animals
2. Never tolerate animal cruelty
3. Adopt a shelter pet
4. Spay or neuter your pets
5. Keep pets' vaccinations current
6. Identify your pets with tags or microchip
7. Appreciate wildlife
8. Leave room for animal habitats
9. Interest others in the cause
Adopting A Pet
You see a cute tiger-striped kitten with white paws and green eyes, just begging for your attention. Or maybe it's a handsome, tail-wagging Labrador mix who couldn't be more friendly and has those irresistible puppy eyes.
If you're like most of us, falling in love with a pet is easy. And no wonder! Sharing your home with a four-legged friend can be one of life's greatest joys. Dogs, cats and other pets give us unconditional loyalty and acceptance, provide constant companionship, and even help relieve stress after a hard day's work.
Adopting a pet, however, is a big decision. Dogs and cats are living beings who require lots of time, money and commitment - over 15 years' worth in many cases. Pet ownership can be rewarding, but only if you think through your decision before you adopt a companion.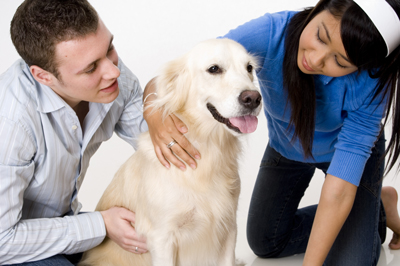 Things to Consider
The fact that you're thinking about adopting a pet from an animal shelter, rescue league or humane society means you're a responsible and caring person. But before you make that final decision to bring a furry friend into your life, take a moment to think about these questions:
•Why do you want a pet?
It's amazing how many people fail to ask themselves this simple question before they get a pet. Adopting a pet just because the kids have been asking for a puppy usually ends up being a big mistake. Don't forget that pets may be with you even after your children leave home.
•Do you have time for a pet?
Dogs, cats and other animal companions cannot be ignored just because you're tired or busy. They require food, water, exercise, care and companionship every day of every year. Many animals have been given up because their owners didn't realize how much time it took to properly care for them.
•Can you afford a pet?
The monetary costs of pet ownership can be quite high. Licenses, training classes, veterinary care, grooming, toys, food, kitty litter and other expenses add up quickly.
•Are you prepared to deal with special problems that only a pet can cause?
Fleas, scratched-up furniture and accidents from animals who aren't yet housetrained are just a few of the inconveniences that you will face.
•Can you have a pet where you live?
Many rental communities don't allow pets, others have restrictions. Make the necessary inquiries before you bring a pet home.
•Is it a good time for you to adopt a pet?
If you're a student, in the military, or travel frequently as part of your work, waiting until you settle down may be the wiser choice.
•Are your living arrangements suitable for the animal you have in mind?
Adopting an energetic dog or a breed that is unsuitable to share your small apartment (a Border collie for example), is not a good idea. Choose an animal who will be comfortable in your surroundings.
•Who will care for your pet if you go on vacation?
You'll need either reliable friends and neighbors, or money to pay for a boarding kennel or pet-sitting service.
•Will you be a responsible pet owner?
Having your pet spayed or neutered, obeying community leash and licensing laws and keeping identification tags on your pets are all part of being a responsible pet owner. Of course, giving your pet love, companionship, exercise, a healthy diet and regular veterinary care are other essentials.
•Are you prepared to keep and care for the pet for his or her entire lifetime?
When you adopt a pet, you are making a commitment to care for the animal for his or her lifetime.
Get an Animal for Life
Sure, it's a long list of questions. But a quick stroll through the animal shelter will help you understand why answering them before you adopt a pet is so important.
Please, think before you adopt. Sharing your life with a companion animal can bring incredible rewards, but only if you're willing to make the necessary commitments of time, money, responsibility and love for the life of the pet.
Much of the information for this article was contributed by the Humane Society of the U.S.