Divine Animal Hospital Newsletter
The veterinarians and staff at the Divine Animal Hospital are pleased to provide you with an online newsletter. This fun and fact-filled newsletter is updated on a regular basis.
Included in the newsletter are articles pertaining to pet care, information on Divine Animal Hospital, as well as news on the latest trends and discoveries in veterinary medicine.
Please enjoy the newsletter!
Current Newsletter Topics
10 Tips To Keep Your Pet Warm and Safe this Winter
Winter is coming—and with it, snow, ice and those nasty whirling gusts of freezing air.
Don't be left out in the cold on how to properly care for your pets during the winter months. Just like with the warmer temperatures in summer, cold weather poses potential health and safety risks to animals. With that in mind, here are a few tips to help keep your pets warm and safe this winter:
1. In summer, a car's temperature can climb quickly and be deadly to a pet locked inside. The same goes for a cold car in the winter. Never leave your pet alone in a cold car.
2. Save a warm spot off the floor and away from drafts for your pet to sleep at night, and keep a warm blanket or pillow handy for them to cozy up with. For kittens and older cats, try a heated pad or bed.
3. Dogs who are small, short-haired, young or old, are particularly intolerant of colder weather and should be watched carefully by their owners. When taking pets on a walk, keep them warm with a sweater or a doggy coat, and consider using booties to prevent sand, salt or chemicals from irritating paw pads. Spending long hours in below freezing temperatures is never recommended as pets as just as susceptible to frostbite and hypothermia as people. Consult with your veterinarian if you're unsure of their cold tolerance, and avoid exposing them to long periods of outdoor time.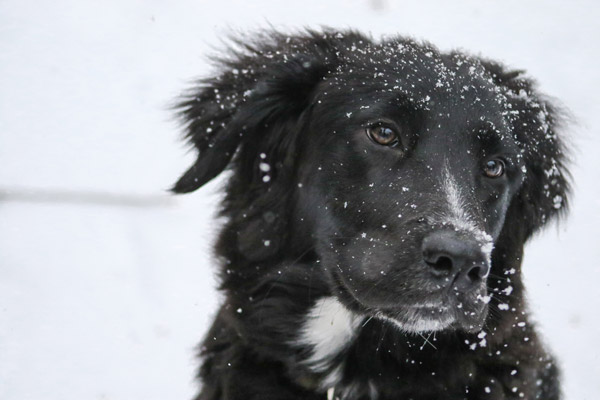 4. Adjust your animal's food intake based on the amount of exercise he or she is getting in the winter. While pets may burn extra energy to try to keep warm during the winter, it's not encouraged to allow animals to gain extra weight because of added health risks. Fresh water should also be provided to help keep your pet hydrated and their skin from becoming too dry.
5. Matted fur won't protect your dog or cat from the cold, so keep their coats well groomed. After taking your dog for a walk, wipe down their feet, legs and stomach area to prevent ingestion of salt or dangerous chemicals. Also check paws for cracks or redness between toes. Using petroleum jelly or another paw protectant is advised if taking your pet for a walk and not using pet booties.
6. Never let dogs off leash on snow or ice.
7. Antifreeze has a sweet taste that attracts animals, but is a deadly poison. Wipe up any antifreeze spills immediately, or better yet, use pet-friendly antifreeze and ice melt products for your own home.
8. Outdoor cats often nap on or around car engines to keep warm in colder months. If there are outdoor cats in your neighborhood, honk the horn before starting your car to make sure any cats hiding next to your tires or under the hood get out safely.
9. If your dog is let out in your yard, make sure snow drifts near your fence haven't made it easy for your dog to escape. While it's not recommended to keep pets outside during the winter (especially in harsh conditions and freezing temperatures), be sure to provide a warm shelter with plenty of bedding and supply pets with fresh, non-frozen water.
10. Like humans, pets are sensitive to the dry air of winter. The change from coming in from the cold and into a heated house can lead to flaky and itchy skin. Consider using a humidifier to help ease the irritation of dry air. Remove snow or ice balls from between your pet's foot pads. Limit baths to prevent the loss of essential oils in your pet's coat and on their skin. If they're in need of a bath, consult with your veterinarian about a moisturizing products to use.
Emergency Kit For Your Pet
Of course, the best way to handle emergency situations is to avoid them by keeping your pet safe and healthy. However, in spite of your best efforts, accidents can happen. Here are some tips to consider before you need to use them.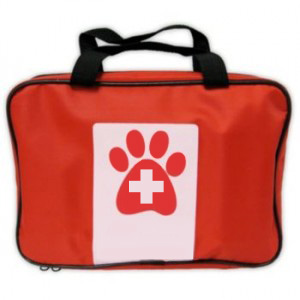 Always keep within reach the phone numbers for your veterinarian, emergency clinic, poison control center, etc. Keep a copy of your pet's health records where you can easily find them. You may also want to invest in a book that covers first aid procedures. Ask your veterinarian for recommendations. For example, the ASPCA's Complete Dog Care Manual and Complete Cat Care Manual have excellent information on first aid principles, as well as what to do in case of traffic injury. The book also contains useful information on how to perform artificial respiration and what steps to follow in case of poisoning, burns, insect bites, etc.
Have a pet carrier so you can safely transport your pet to an emergency clinic or veterinary hospital. Remember: An injured or ill pet may not act like its normal, sweet-tempered self. Handle the pet with care so you don't get bitten or scratched and need emergency treatment yourself!
Keep an emergency kit on hand with such items as:
• Bandages
• Adhesive tape
• Cotton
• Antiseptic cream
• Sterile dressings
• Gauze
• Thermometer
• Tweezers
• Scissors
• Blanket
Your Pet's Allergies
The skin is the largest organ of the body. It's major function is to protect the rest of the body from the external environment. With it's sweat glands and rich blood supply, it is also responsible for regulating the body's temperature.
The exterior portion of the skin is called keratin. In animals, this protective waterproof layer is thickest on the paw pads. Under the keratin layer are the epidermal cells. These cells are constantly dividing, as new cells are replacing damaged older cells. The keratin layer and the epithelial cells are the body's first line of defense against invading microorganisms and hazardous environmental substances. These layers are also responsible for keeping moisture inside the body, preventing the body from dehydrating.
Like humans, animals have allergies. Some allergies are seasonal while others occur year round. In the northern parts of the U.S., flea allergies are commonly seen in the summer and fall. In the southern states, flea allergies often occur throughout the year. Food allergies are not seasonal. They can occur anytime during the year. The most common types of allergies in pets (particularly dogs) include: contact allergies, flea allergies, atopy and food allergies.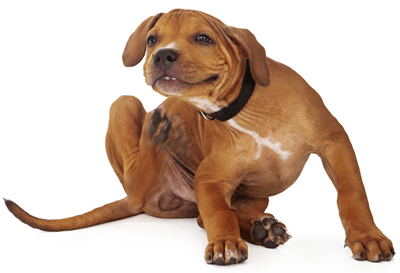 Asthma and hay fever are common symptoms of allergies in humans. Animals rarely develop these symptoms. Scratching is the most common symptom of allergies in pets. Some animals scratch so much that they mutilate themselves. It is not unusual to see an allergic dog with large skin wounds and areas devoid of fur (often called "hot spots"). Once the skin is injured, the animal is susceptible to a serious bacterial infection.
There are many ways to treat allergies in pets. Food allergies can be treated with hypoallergenic diets. Certain animals respond favorably to desensitization. Unfortunately, in most cases, allergies are extremely difficult to treat and require medication. This medication should only be dispensed by a veterinarian.
Overweight Pets Are In The Majority
The Association for Pet Obesity Prevention has revealed that pet obesity rates has held steady in the past year, with 58 percent of cats and 54 percent of dogs recorded as overweight or obese, despite efforts by the Association to spread awareness of the dangers of pet obesity. Pet obesity, like obesity in humans, can lead to osteoarthritis, type 2 diabetes, heart disease, joint injury, cancer and decreased life expectancy.
The Association for Pet Obesity Prevention also found most owners of overweight pets do not realize their pet is considered overweight. Ninety-five percent of dog owners and 90 percent of cat owners believed their overweight pets were in the normal weight range.
"There's an entire nation of pet owners who are loving their pets to death with too many calories and not enough exercise," said Joe Bartges, DVM, a veterinary nutritionist and internist. "They are in the dark that their pets are overweight and that a host of diseases can arise as a result."
How to Measure Your Pet's Quality of Life
Veterinarians take many things into consideration before recommending humane euthanasia for a sick, injured or elderly pet. When it comes to setting your own mind at ease, there are ways to rate or measure your pet's overall well-being.
The Veterinary Medical Center at Ohio State University published a survey designed to illustrate your pet's quality of life which was adapted from several other common methods. The survey asks you, the pet owner, to rate 25 different prompts on a scale from one to five. A score of one indicates strong agreement or a condition that is present all the time or is severe; a score of five indicates strong disagreement or a condition that is never present and nonexistent. Thus, higher scores indicate a better quality of life.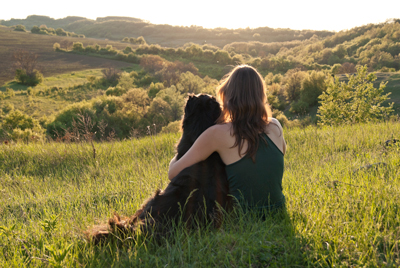 The Survey
Scale
1: Strongly Agree / All the Time / Severe
2: Agree / Most of the Time / Significant
3: Neutral / Sometimes / Mild
4: Disagree / Occasionally / Slight
5: Strongly Disagree / Never / None
My pet...
1. Does not want to play
2. Does not respond to my presence or doesn't interact with me in the same way as before
3. Does not enjoy the same activities as before
4. Is hiding
5. Demeanor/behavior is not the same as it was prior to diagnosis/illness
6. Does not seem to enjoy life
7. Has more bad days than good days
8. Is sleeping more than usual
9. Seems dull and depressed
10. Seems to be or is experiencing pain
11. Is panting (even while resting)
12. Is trembling or shaking
13. Is vomiting and/or seems nauseous
14. Is not eating well (may only be eating treats or if fed by hand)
15. Is not drinking well
16. Is losing weight
17. Is having diarrhea often
18. Is not urinating well
19. Is not moving normally
20. Is not as active as normal
21. Does not move around as needed
22. Needs my help to move around normally
23. Is unable to keep self clean after soiling
24. Has coat that is greasy, matted or rough-looking
25. How is my pet's overall health compared to the initial diagnosis/illness?
Once you have rated each prompt, tally up the number of responses for each number and then place an 'X' on a "Quality of Life line" labeled "Good" at one end and "Poor" at the other according to your most frequent response.
The purpose of this exercise is to help you better visualize your pet's general well-being. Of course, not all pets are the same and what is rated poorly for one may not be so bad for another. For pets currently undergoing treatment, some poor ratings may be liked to symptoms and side effects which will subside. It is always important to discuss your concerns and your pet's overall demeanor with your veterinarian, especially when considering humane euthanasia.